Chirashi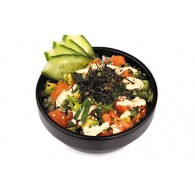 Chirashi or Chirashi Sushi is one of favorite Japanese meals.
Сhirashi word means "scattered", so this is a bowl of rice mixed with fish, vegetables, and additional ingredients.
If you're in the mood for rice and fish, but don't want sushi rolls, then Chirashi is the best option.
Served with soy sauce, wakame, lemon, ginger, wassabi.
Showing 1 to 7 of 7 (1 Pages)