Sets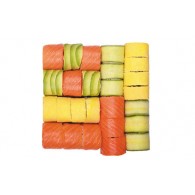 Sushi sets from the company Sushi Club Hurghada are very beneficial, as the price of the sets includes a discount, so you can enjoy your favorite dishes more often!
Sets are simply irreplaceable for a big company, because everyone can find their favorite roll in them.
In addition, ordering a sushi set you get an opportunity to try something new, something you did not try before.
Showing 1 to 23 of 23 (1 Pages)