Soups&Salads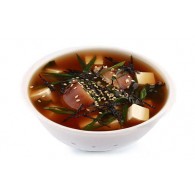 Misoshiru ("soup with miso") is a dish of Japanese cuisine, a soup with miso paste dissolved in it.
The composition of soup includes a lot of secondary ingredients; their set depends on the region and season.

The menu of Sushi club Hurghada introduces miso soups and fish bouillons with udon noodles, based on salmon bouillon.
Japanese salads are excellent side dishes to our main courses.
Usually, Japanese use rice vinegar and soy sauce as a dressing.
In the European version we use mayonnaise and sour cream.
Showing 1 to 15 of 15 (1 Pages)